This small study tested the pharmacodynamic effects of several antiplatelet agents. It concluded that tirofiban (Aggrastat) provides "more potent and consistent" inhibition of platelet aggregation compared with cangrelor in patients with ST-segment elevation myocardial infarction undergoing primary angioplasty.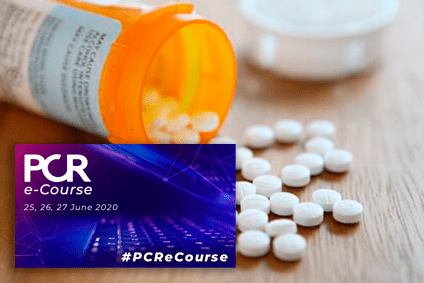 Thirty minutes after the initiation of treatment, there was a nearly threefold difference between tirofiban and cangrelor as regards inhibition of platelet aggregation.
Both cangrelor and tirofiban were superior to chewed prasugrel.
Additionally, chewed prasugrel was not superior to standard prasugrel compressed tablets.
Dr. Valgimigli, who presented the study at virtual EuroPCR 2020, said that oral P2Y12 inhibitors, such as prasugrel or ticagrelor, provide suboptimal inhibition of platelet aggregation in patients undergoing primary angioplasty. Some smaller, single-center studies had reported that chewing or crushing P2Y12 inhibitors might improve drug availability, as in the case of prasugrel.
---
Read also: EuroPCR 2020 | Deferral Based on iFR vs. FFR: Are They Equivalent or Is There a New "Gold Standard"?
---
On the other hand, parenteral drugs provide a rapid and sustained effect compared with oral P2Y12 inhibition. However, there were no comparative data on different drugs and dosage formulations.
FABOLUS-FASTER, which was published simultaneously in Circulation, randomized 122 patients to cangrelor, tirofiban, or prasugrel. Cangrelor and tirofiban were administered as a bolus and 2-hour infusion followed by a 60-mg loading dose of prasugrel. Patients randomized to prasugrel were given a 60-mg loading dose and then they were randomized again to receive either chewed prasugrel or its compressed tablets.
Upon stimulation of platelet-rich plasma with ADP, there was a 95% inhibition with tirofiban compared with 34.1% with cangrelor (p < 0.001). Cangrelor failed to meet the criteria for noninferiority.
---
Read also: EuroPCR 2020 | Is Renal Denervation Coming Back to Life?
---
With chewed prasugrel, the outcome was 10.5%; consequently, it also failed to meet the criteria for noninferiority compared with cangrelor and tirofiban.
Patients who received chewed prasugrel had a higher active metabolite concentration compared with standard administration. However, there was no difference in the inhibition of platelet aggregation.
The more potent inhibition by tirofiban might reduce the occurrence of ischemic events, but this hypothesis needs to be tested in studies powered for clinical endpoints.
---
Read also: EuroPCR 2020 | Revascularization vs. Initial Medical Treatment in Chronic Patients.
---
The use of glycoprotein IIb/IIIa inhibitors has declined out of concern for bleeding. That notwithstanding, such fear is based on studies featuring prolonged infusion and transfemoral access for primary angioplasty.
GDE Error: Unable to determine file type from URL
Original Title: Cangrelor, Tirofiban and Chewed or Standard Prasugrel Regimens in Patients with ST-Segment Elevation Myocardial Infarction: Primary Results of the FABOLUS FASTER Trial.
Reference: Gargiulo G et al. Circulation. 2020; Epub ahead of print y presentado simultáneamente en el EuroPCR 2020.
---
We are interested in your opinion. Please, leave your comments, thoughts, questions, etc., below. They will be most welcome.