One-year outcomes of the head to head trial between CoreValve Evolut R vs Sapien 3 showed a significantly higher difference in stroke vs. patients receiving the self-expanding valve (Sapien 3 6.9% vs Evolut R 1%; p=0.002).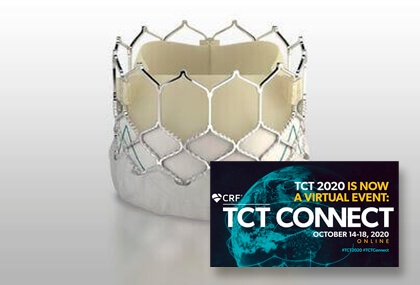 The SOLVE-TAVI randomized 2×2 patients with severe aortic stenosis and high surgical risk to Sapien 3 or Evolut R and general anesthesia or conscious sedation.
Both devices resulted comparable for the combined end point of death, stroke, moderate to severe aortic regurgitation and the need of new definite pacemaker
The difference in stroke is surprising and difficult to explain since the number observed in this study for the Sapien 3 greatly exceeds the one observed in other studies, such as the SOURCE 3 and the PARTNER 3, which had used the same device.
Between 30 days and one year there were no significant differences in stroke, therefore they were peri-procedural strokes.
---
Read also: TCT 2020 | Fewer Symptoms and Events when Optimizing with iFR.
---
All-cause mortality resulted practically identical (17.6% with Evolut R vs 17.0% with Sapien 3; p=0.88), moderate to severe aortic regurgitation rate favored the Sapien 3 numerically, but not significantly (7.0% with Evolut R vs 4.5% with Sapien 3; p=0.35).
Definite pacemaker rate was relatively high and similar between devices (24.7% with Evolut R vs 20.2% with Sapien 3; p=0.25).
As regards the comparison between conscious sedation and general anesthesia, mortality, stroke, MI, infection, and kidney injury rates were equivalent between strategies.
---
Read also: TCT 2020 | The Myth of Biodegradable Polymers Seems to Have Come to an End.
---
Conscious sedation saw shorter intensive care unit stay and shorter total hospital stay. A cost analysis that should favor conscious sedation is expected.
Original Title: SOLVE-TAVI investigators. A 2 x 2 randomized trial of self-expandable vs balloon-expandable valves and general vs local anesthesia in patients undergoing transcatheter aortic valve implantation: 1-year result.
Reference: presentado por Feistritzer H-J en el congreso TCT 2020 virtual.
---