Transcatheter aortic valve replacement (TAVR) results durable at 5 years to treat failed surgical bioprosthetic valves and at one year to treat valves percutaneously. Regardless the type of the failed valve, the solution is TAVR.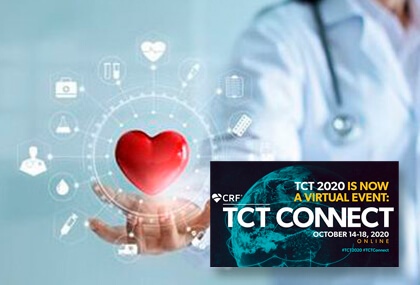 The 5 year follow up of the PARTNER 2 valve-in-valve (ViV) showed that TAVR as treatment for failed surgical bioprosthetic valves in high risk or inoperable patients has similar prognosis to TAVR for native valves and moderate risk patients. The benefit in terms of hemodynamics, functional capacity and quality of life is the same.
The PARTNER 2 ViV included 365 patients (mean age 79) at high or extreme surgical risk (mean STS 9.1%) and severe aortic stenosis for severe failure of a bioprosthesis valve of +21 mm diameter, to be treated with a 23 or 26 mm Sapien XT.
At 5 year follow up, all-cause mortality was 50.6% and severe deterioration of the new prosthesis was 2.3%.
---
Read also: TCT 2020 | Surprising Differences in Stroke between SAPIEN 3 and Evolut R.
---
In the same session at TCT 2020 the international registry TRANSIT was presented, which showed TAVR as a safe and effective option to treat prior TAVR with a degenerated bioprosthesis.
Considering a second TAVR procedure when the first valve has severely deteriorated seems logical seeing as TAVR had already been chosen against surgery in in the first place.
172 TAVR patients were registered to treat failed TAVR, the most frequent mode of failure being regurgitation (n=97), then stenosis (n=57) and lastly mixed disease (n=18).
---
Read also: TCT 2020 | Fewer Symptoms and Events when Optimizing with iFR.
---
The second prosthesis was implanted successfully in all patients, even though according VARC 2 criteria, success rate was 79%, mainly because of 14% residual gradient and 7% regurgitation.
Total mortality and cardiovascular mortality were 10% and 5.8% respectively. Other adverse events registered at one-year followup were hospitalization for cardiac failure (11%), stroke (3.5%), valve thrombosis (1.4%) and myocardial infarction (1.2%). Only 12.8% stayed in FC CF III-IV at one year.
Original Title: Five-year follow-up from the aortic valve-in-valve registries y TRANSIT: treatment of failed TAVR with TAVR.
Reference: Hahn RT y Testa L. Ambos trabajos fueron presentados durante el TCT 2020 virtual.
---