Minimalist transcatheter aortic valve replacement (TAVR) is a strategy that is here to stay.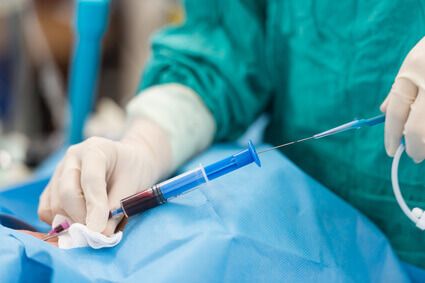 We have previously published papers comparing local vs. general anesthesia, use of transthoracic vs. transesophageal echocardiography, and early discharge in TAVR.
In all these papers, the "minimalist approach" included percutaneous closure of vascular access. However, few papers compare closure devices in this context. Access closure is important, as vascular and hemorrhagic complications depend on its success.
ProGlide and Prostar XL devices are widely used in clinical practice, but their comparative efficacy in TAVR is still up for debate.
Prospective multicenter database RISPEVA included 2583 patients who underwent TAVR via transfemoral access and percutaneous access closure with one device or the other (n = 1361 with ProGlide and n = 1222 with Prostar XL). The endpoint for this study was cardiovascular death, bleeding, and vascular complications one month and one year after procedure. Propensity score matching was conducted to compare populations.
---
Read also: Global FFR as Prognosis in CAD Patients without Ischemia.
---
There was a significant reduction in the primary endpoint at 30 days with the ProGlide device (13.8% vs. 20.5%, p = 0.043). This difference in the primary endpoint was driven by a decrease in the rates of bleeding (9.1% with ProGlide vs. 11.7% with Prostar XL). After one year of follow-up, there was no difference between devices.
Technical success during the procedure with ProGlide was superior to that for the procedure with Prostar XL (99.2% vs. 97.5%, respectively; p = 0.001).
In all patients, the contralateral access angiography technique was used to secure the puncture site in the common femoral artery. With ProGlide, which requires using two devices, researchers used the recommended technique: rotating the devices between 30 and 45 degrees in opposite directions to create an X shaped suture.
---
Read also: Sapien Valve Keeps Delivering in Jobs for Which It Was Not Designed.
---
The greatest advantage of ProGlide was observed in obese patients and in those whose access required an introducer sheath of greater diameter.
Conclusion
The ProGlide device showed greater efficacy than Prostar XL for access closure after TAVR. This greater efficacy was driven by a reduction in access-site bleeding.
Original Title: Efficacy and Safety of ProGlide Versus Prostar XL Vascular Closure Devices in Transcatheter Aortic Valve Replacement: The RISPEVA Registry.
Reference: Sergio Berti et al. J Am Heart Assoc. 2020;9:e018042. DOI: 10.1161/JAHA.120.018042.
---
(Visited 1 times, 1 visits today)