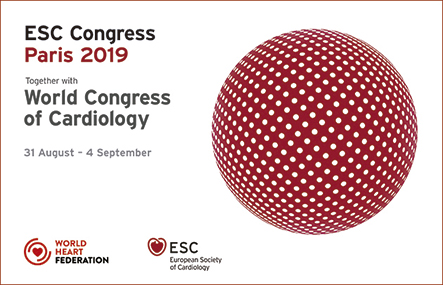 ESC 2019
Here you will find the highlights of the ESC 2019 Congres, held on August 31st to September 4th in Paris, France.
ESC 2019 | CLARIFY: Symptoms Predict Risk Only in Patients with Prior MI
The 5-year follow up of patients with chronic stable angina (or as the guidelines currently call it "chronic coronary syndrome") indicate the risk of cardiovascular death or non-fatal MI is ...
ESC 2019 | EVOPACS: Evolocumab to Reduce Cholesterol in Acute Coronary Syndromes
Eight weeks of treatment with evolocumab added to a regimen of high-intensity statins in patients with acute coronary syndrome reduced significantly LDL cholesterol levels and was safe, compared ...
ESC 2019 | How Benign Is Moderate Aortic Stenosis?
Data from a great Australian registry of nearly 250,000 people with a 5-year follow-up, presented at the European Society of Cardiology (ESC) Congress 2019 in Paris and simultaneously published in ...
ESC 2019 | MITRA-FR: 2-Year Outcomes of One of the Largest Studies on MitraClip
Negative one-year outcomes of Mitra-FR led to several discussions and hypothesis, especially after the COAPT was published only a few weeks later. According to the COAPT study, the MitraClip was ...