Hypertension is the first modifiable risk factor affecting morbidity and mortality in nearly half of the adults in the US. The new ACC/AHA guidelines have issued new standards for the detection assessment and management of high blood pressure.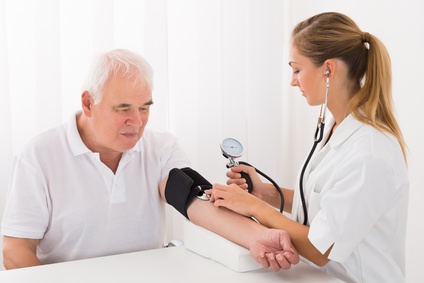 The major change compared against their prior version was stage 1 hypertension definition, defined as systolic blood pressure of 130-139 mmHg or diastolic blood pressure between 80-89 mmHg.
Drug treatment is recommended for hypertension stage 1 only when there is clinical evidence of atherosclerosis or ≥ 10%estimated clinical risk at 10 years.
Non-pharmacologic therapies, which include the DASH approach (Dietary Approaches to Stop Hypertension), reducing alcohol consumption and physical activity, should be emphasized as primary intervention for all adults with ≥ 120/80 mmHg blood pressure.
---
Read also: New Promising Alternatives for Mitral Regurgitation.
---
Following the release of the American guidelines, there were heated debates in other scientific societies, including the European (ESC), about blood pressure definitions and the right moment to start treatment.
Hypertension prevalence was significantly affected by this new definition, making nearly half of the adult population in the US hypertensive, compared to one third with prior thresholds. This affects young adults disproportionally, since prevalence among them has practically doubled (<44 years).
This has not only affected prevalence, but also blood pressure control, with 53.4% above the ideal values.
Both in the daily practice and at healthcare system level there are huge obstacles to implement ACC/AHA recommendations. With increased prevalence, the emphasis in lifestyle is critical, but time consuming. Unfortunately, these interventions are often ineffective and not very sustainable.
---
Read also: DES with Bioresorbable Polymer vs. Bare Metal Stents in Primary PCI.
---
It is also very important to assess the economic cost involved in meeting ACC/AHA blood pressure goals. Hypertensive have approximately twice the healthcare cost compared to non-hypertensive.
Conclusion
ACC/AHA guidelines continue to be controversial long after one year.
Hypertension prevalence has significantly increase based on the new definitions, which affects the young population disproportionally. However, people requiring drug management are a relatively small fraction of the population. More emphasis should be placed on lifestyle change.
Recent studies have validated these changes, which could reduce mortality and morbidity.
Original Title: Clinical Implications of the 2017 ACC/AHA Hypertension Guidelines.
Reference: Tiwana J et al. Eur Heart J. 2019 Jul 1;40(26):2106-2109.
---
We are interested in your opinion. Please, leave your comments, thoughts, questions, etc., below. They will be most welcome.