Intravascular coronary lithotripsy shows promise for the improvement of angioplasty in severely calcified lesions, according to data from the DISRUPT CAD III study, published in JACC and simultaneously presented at the TCT 2020 Congress.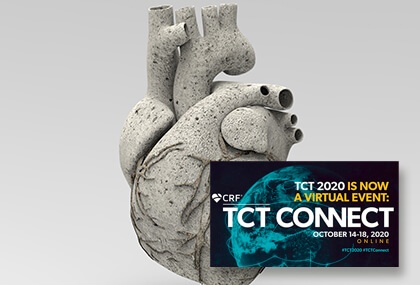 Calcification in all patients enrolled was highly severe, with an average length of 48 mm, and side-branch involvement in 30% of cases.
Lithotripsy, which involves using acoustic pressure waves to fracture calcium, was well tolerated with low rates of complications.
Observed results were confirmed by pre- and post-procedure intravascular imaging.
DISRUPT CAD III enrolled 431 patients in 47 sites presenting severely calcified de novo coronary artery lesions with reference diameters between 2.5 mm and 4.0 mm.
---
Read also: TCT 2020 | Fewer Symptoms and Events when Optimizing with iFR.
---
The primary safety endpoint was observed in 92.2% of patients. Similarly, the effectiveness endpoint occurred in 92.4%. Both endpoints exceeded expectations.
Previous reports indicated the possibility of ventricular capture with shock waves, something that was observed in this study. Said captures were not associated with sustained ventricular arrhythmias during or immediately after the procedure, and they did not correlate with adverse events either.
Conclusion
Coronary lithotripsy was safe and effective in facilitating stent implantation and expansion in highly calcified lesions.
Original Title: Intravascular lithotripsy for treatment of severely calcified coronary artery disease: the DISRUPT CAD III study.
Reference: Hill JM et al. J Am Coll Cardiol. 2020; Epub ahead of print y presentado simultáneamente en el congreso TCT 2020 virtual.
---