The former generation of valves, the balloon expandable (Sapien XT), was associated to less paravalvular leak than the self-expanding valves only in patients with larger annuli. The new generation of self-expanding valves (Evolut R) has managed to significantly improve sealing in patients with larger annuli and still holds potential benefits for smaller annuli.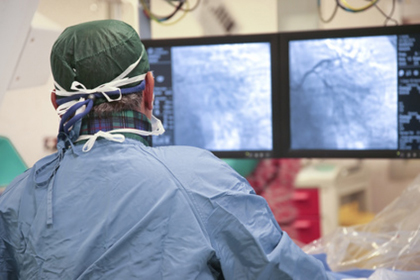 The aim of this study was to compare self-expanding vs. balloon expandable valves in patients with large and small annuli.
Patients with severe aortic stenosis requiring transcatheter aortic valve replacement were randomized and included in the CHOICE (Comparison of Transcatheter Heart Valves in High Risk Patients With Severe Aortic Stenosis: Medtronic CoreValve vs Edwards SAPIEN XT) trial (CoreValve n=120; SAPIEN XT n=121) and later in the non-randomized CHOICE-Extend registry that included patients with new generation versions of both valves (Evolut R n=100; SAPIEN 3, n=334).
---
Read also: In Diabetics with Multivessel Disease SYNTAX Score Calculations Are Redundant.
---
These compared performance by echocardiography in all patients and by cardiac magnetic resonance imaging regurgitant fraction only in a subgroup of patients. Patients were stratified according to aortic valve annular mean diameter into those with large (>23 mm) or small (≤23 mm) annuli.
Prosthesis percentage oversizing was 19.1 ± 6.4% with Core Valve, 11.4 ± 7.0% with XT, 18.8 ± 4.8% with Evolut R and 3.7 ± 5.5% with Sapien 3.
Mean gradient resulted lower both with Core Valve and Evolut R compared against XT or Sapien 3. This happened with both big and small annuli.
---
Read also: Infrainguinal Bypass Following Failed Endovascular Intervention Has a Different Outcome.
---
In the CHOICE trial, moderate or severe paravalvular leak was higher with the Core Valve than with XT in patients with large annuli (Eco 15.1% vs. 0.0%; p=0.002 and regurgitant fraction by MRI of 10.5% vs. 4.4; p=0.036), but this different was not significant in patients with small annuli.
In the CHOICE-Extend registry, moderate to severe paravalvular leak resulted similar between Evolut R and Sapien 3 both for big and small annuli.
Original title: After Transcatheter Aortic Valve Replacement with Self-Expanding Versus Balloon-Expandable Valves in Large Versus Small Aortic Valve Annuli. Insights from the CHOICE Trial and the CHOICE-Extend Registry.
Reference: Mohammad Abdelghani et al. J Am Coll Cardiol Intv 2018, article in press.
---
We are interested in your opinion. Please, leave your comments, thoughts, questions, etc., below. They will be most welcome.