Ticagrelor monotherapy after 3 months of dual antiplatelet therapy in patients who experienced ST-segment elevation infarction significantly reduces major bleeding without increasing ischemic risk.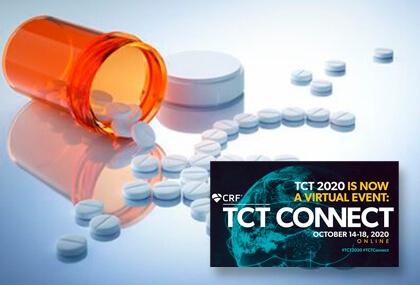 This pre-specified analysis of the TICO study shows that ticagrelor monotherapy is safe even in patients with higher ischemic risk.
Interrupting aspirin use after 3 months of dual antiplatelet therapy and continuing treatment using only ticagrelor compared with using aspirin plus ticagrelor for a year reduces the risk of major bleeding to less than a third (0.9% vs. 2.9%; hazard ratio [HR]: 0.32; 95% confidence interval [CI]: 0.12-0.87).
This advantage did not come at the expense of more ischemic events (2.7% vs. 2.5%; HR: 1.09; 95% CI: 0.53-2.27).
This strategy has been assessed in other studies, but with different ischemic risk profiles. Only 13% of patients included in GLOBAL LEADERS had ST-segment elevation, while TWILIGHT enrolled none with this criterion.
---
Read also: TCT 2020 | Crushed Prasugrel Administration prior PCI.
---
The results of the subgroup of patients with ST-segment elevation in the TICO study mimic the results of the general population.
The TICO study was conducted in 38 sites in South Korea, where patients with acute coronary syndrome (unstable angina, and infarction with and without ST-segment elevation) underwent angioplasty with ultrathin-strut Orsiro stent 12 months into dual antiplatelet therapy with aspirin plus ticagrelor or 3 months of dual antiplatelet therapy followed by 9 months of ticagrelor monotherapy. The protocol included an analysis of the 1103 patients enrolled with ST-segment elevation at baseline.
The primary endpoint was net adverse clinical events (a composite of TIMI major bleeding, death, infarction, stent thrombosis, stroke, and target-vessel revascularization).
---
Read also: TCT 2020 | Prophylactic Angioplasty for Vulnerable Plaques.
---
The primary endpoint was similar at the intention-to-treat analysis (3.7% vs. 5.0%), but the difference reached significance in the as-treated analysis in favor of monotherapy (2.3% vs. 5.2%; HR: 0.44; 95% CI: 0.23-0.86).
Ticagrelor monotherapy reduced TIMI major bleeding regardless of patient bleeding risk at baseline as defined by the PRECISE-DAPT score (p = 0.69 for interaction).
The complexity of angioplasty did not significantly influence the results, but the highest risk of ischemic events was seen, precisely, in patients who underwent complex angioplasty followed by monotherapy.
Original Title: TICO-STEMI: a randomized trial of ticagrelor monotherapy vs. ticagrelor with aspirin in STEMI.
Reference: presentado por Kim B-K en el congreso TCT 2020 virtual.
---