The objective of this paper recently published in J Am Coll Cardiol Intv was to compare the outcomes of transcatheter aortic valve replacement (TAVR) with the new Sapien 3 Ultra vs. Sapien 3.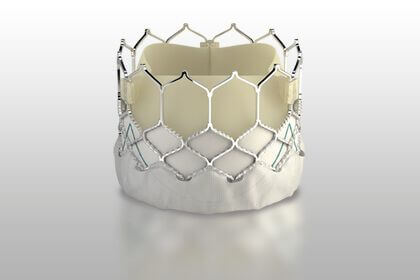 Successful implantation was extremely high with both balloon-expandable devices, which also had a very low adverse event rates. However, Sapien Ultra was significantly better than Sapien 3 in terms of paravalvular leak.
Both valves are made of bovine pericardium, with a cobalt-chromium stent plus a low-profile delivery system and high radial force. Sapien Ultra additionally has a polyethylene external skirt, which increases the device height by 40%, providing a 50% bigger contact surface with the native valve so as to improve annular sealing. The release system features differences too.
This registry included all consecutive patients who underwent TAVR with Sapien 3 and Sapien Ultra between 2014 and 2020. Propensity score matching was used to compare both arms.
A total of 310 matched patients were included (155 for each device). After propensity score matching, no difference was detected in baseline clinic characteristics.
---
Read also: Low-Carb Diet and Coronary Artery Calcium Progression.
---
Procedures were more frequently done under conscious sedation with Sapien Ultra (97.4% vs. 71.6%; p < 0.001) and pre-dilation was significantly less (42.6% vs. 85.2%; p < 0.001).
In-hospital results, including implantation success (91.6% vs. 95.5%; p = 0.165), major vascular complications (12.3% vs. 11.0%; p = 0.723), and pacemaker implantation (5.8% vs. 4.5%; p = 0.608) were comparable between Sapien 3 and Ultra, respectively.
The postprocedural gradient was similar (13.2 ± 5.7 mmHg vs. 13.1 ± 4.7 mmHg; p = 0.829) and so were the rates for moderate and higher paravalvular leak (1.3% vs. 2.7%; p = 0.414).
---
Read also: AHA 2020 | Post-TAVR Anticoagulation in Patients with Atrial Fibrillation.
---
The significant difference in favor of Sapien Ultra was in mild leak with a rate that was less than half the rate for Sapien 3 (18.7% vs. 43%; p < 0.001).
Conclusion
With excellent results in both devices, adding a polyethylene skirt in the Sapien Ultra device managed to reduce the rate of mild paravalvular leak to less than half.
Original Title: Transcatheter Aortic Valve Replacement With Balloon-Expandable Valves Comparison of SAPIEN 3 Ultra Versus SAPIEN 3.
Reference: Tobias Rheude et al. J Am Coll Cardiol Intv 2020;13:2631–8. https://doi.org/10.1016/j.jcin.2020.07.013.
---