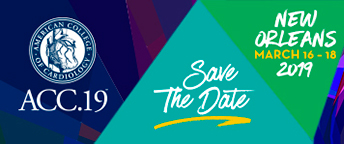 ACC 2019
Here you will find the highlights of the ACC 2019, held on March 16-18 in New Orleans, USA.
ACC 2019 | Having an Infarction at Very Young Age or 10 Years Later Does Not Change Long-Term Mortality
Patients who suffered their first coronary event before turning 40 years old have similar long-term mortality to those who experienced it even 10 years later, according to the YOUNG-MI ...
ACC 2019 | SAFARI: Unexpectedly, Radial Approach Offers No Benefits In STEMI
This study was not able to show benefits in terms of mortality or bleeding when using radial vs. femoral approach in patients undergoing ST elevation myocardial Infarction. This small ...
ACC 2019 | STOPDAPT-2: P2Y12 Monotherapy After Short-Term Dual Antiplatelet Therapy After Angioplasty
Aspirin is against the ropes: first, it was primary prevention; now, its use is being reconsidered even in relation to angioplasty. There might be paradigm changes as regards antiplatelet therapy ...
ACC 2019 | TAVR in Bicuspids is Safe and Feasible in Real World Patients
Experts still won't agree on whether to carry out randomized trial to put an end to this discussion, but it seems clear that balloon expandable TAVR is valid only for certain anatomies.   ...