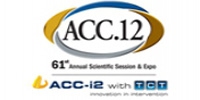 ACC 2012.
Important news from the American College of Cardiology, Innovention & Intervention (I2), which was held in Chicago, Illinois (USA), between the 24th and 27th March 2012.
Estudio TRA2P TIMI 50: En un seguimiento a 2,5 años el Vorapaxar reduce la aterotrombosis aunque aumenta el sangrado durante la prevención secundaria en pacientes con síndromes coronarios agudos.
Read article David W. ...
Estudio MONOCLONAL AC: Estudio Fase II con escalamiento de dosis de un nuevo anticuerpo monoclonal promisorio para la reducción de los niveles de LDL.
Read article James Mckenney. 2012-03-25 ...
ASCERT: Cirugia versus angioplastia en pacientes añosos con enfermedad coronaria de múltiples vasos: comparación de dos registros norteamericanos.
Editorial Read article William Weintraub. 2012-03-26 ...
MOPETT: Una dosis reducida de tPA podría ser beneficiosa para el tratamiento de la embolia pulmonar moderada, ya no sólo del tromboembolismo severo.
Mohsen Sharifi. 2012-03-26 ...
IMMEDIATE: La infusión de GIK antes de la reperfusión reduce el tamaño de infarto y la tasa de paro cardiaco, sin mostrar beneficio en la mortalidad a corto plazo.
Read article Harry P. Selker. 2012-03-26 ...