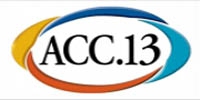 ACC 2013.
The most relevant articles and presentations, daily report from the ACC 2013 congress, held in San Francisco, 9 - 11 march Como cada año se realizó la Convocation Ceremony en la que tuvo lugar el recambio de autoridades del
American College of Cardiology
. El presidente saliente Dr. William Zoghbi, dio lugar a la asunción del nuevo presidente, Dr. John Gordon Harold, quien ofreció su mensaje de bienvenida. Participaron autoridades de las
sociedades de cardiología
de todo el mundo y en representación de
SOLACI
nuestro presidente el Dr. Oscar Mendiz. También se tomó juramento a nuevos Fellows del ACC entre los cuales se encontraban destacados miembros de SOLACI.
TCT Session. An assessment of the severity of lesions. A debate about the different methods to assess coronary physiology.
FFR is the gold standard (Dr. William Fearon) Dr. William reported on the benefits of using FFR: • A high degree of accuracy in identifying lesions that cause ischemia . ...
CHAMPION PHOENIX: Cangrelor compared with clopidogrel improves efficiency without increasing bleeding in patients undergoing angioplasty
Background: Oral antiplatelet agents have a limitation in their duration of action and bioavailability. Cangrelor is an intravenous adenosine diphosphate (ADP) inhibitor that has a powerful effect, ...
PRAGUE-6: off-pump versus in-pump CABG in high-risk patients
Coronary artery bypass grafting (CABG) without a cardiopulmonary bypass, (CBP), has increasingly become an alternative to the conventional standard (with pump). However, it is still controversial ...