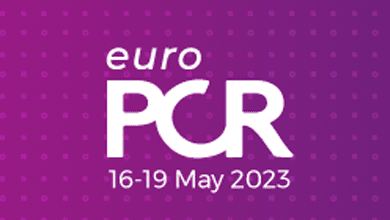 EuroPCR 2023
Here are the most important scientific articles of the EuroPCR 2023.
If you cannot view the articles, click here
EuroPCR 2023 | TAVR in TAVR Results with Balloon-Expandable Valves
With the expansion of transcatheter aortic valve replacement (TAVR) use in the low-risk population, more patients will need repeat valve replacement in the future, making it paramount to ...
EuroPCR 2023 | Intravascular Lithotripsy (IVL) Balloon in the Treatment of Underexpanded Stents
Calcified coronary plaque (CCP) is a challenge for interventional cardiology. Stent underexpansion (SU) commonly associated with CCP could predispose to stent thrombosis or restenosis. ...
EuroPCR 2023 | New Renal Denervation Devices Show Promising Results
The Netrod System study included 205 patients with uncontrolled essential hypertension while taking two drugs (nifedipine and hydrochlorothiazide), who were randomized 2:1 to denervation or ...
EuroPCR 2023 | More Evidence in Favor of Renal Denervation
This study included 219 patients with uncontrolled essential hypertension who had received at least two antihypertensive drugs. All of them underwent a renal angiography and were randomized ...