Most acute coronary syndromes (ACS) are caused by the following three different pathologies:
Plaque rupture

Plaque erosion

Calcified nodule
In daily clinical practice, all patients who experience them are treated with angioplasty, regardless of which of these physiopathologies led to the ACS in each case.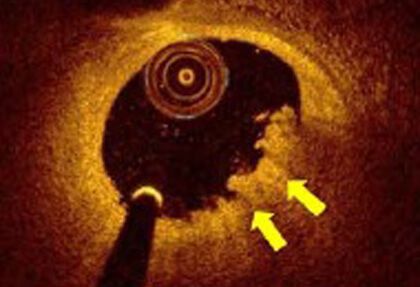 Some early reports indicate that patients with plaque erosion might be stabilized with antiplatelet therapy, without the need for stent implantation.
---
Read also: "The Use of Intravascular Imaging to Guide PCI Reduces Cardiovascular Death Risk, Compared to Angiography".
---
The initial EROSION Study (Effective Anti-Thrombotic Therapy Without Stenting: Intravascular Optical Coherence Tomography–Based Management in Plaque Erosion) showed that these patients can be stabilized with aspirin and ticagrelor without stenting for at least 1 month. However, a longer follow-up was undoubtedly necessary.
Among 53 patients in the parent study who completed clinical follow-up, 49 underwent repeat optical coherence tomography (OCT) imaging at 1 year. The mean thrombus volume decreased significantly from 1 month to 1 year (0.3 mm3 vs. 0.1 mm3; p = 0.001).
Almost half of the patients (46.9%) had no residual thrombus whatsoever at 1 year.
---
Read also: "The use of IVUS in unprotected left main PCI associated to better outcomes, compared to angiography guided PCI".
---
Among this population, 92.5% of patients remained free from major cardiovascular events beyond 1 year: 3 (5.7%) patients required revascularization due to exertional angina and 1 (1.9%) patient had gastrointestinal bleeding.
Conclusion
One-year follow-up with optical coherence tomography imaging showed a further decrease in thrombus volume between the index event, 1-month and 1-year follow-up. A majority (92.5%) of patients with acute coronary syndrome caused by plaque erosion managed with aspirin and ticagrelor without stenting remained free of cardiovascular events at 1 year.
Editorial
Among the 23 patients who had no residual thrombus at one year, the use of glycoprotein IIb/IIa inhibitors was more frequent and the baseline thrombus volume was lower. This does not address the importance of effective antiplatelet therapy during the acute phase, before the organization process begins.
The management of patients with ACS has evolved from aspirin and heparin to balloon angioplasty, bare metal stents, and, ultimately, drug-eluting stents. The current standard of care includes angioplasty with a drug-eluting stent and antiplatelet therapy for 1 year. The rate of events at 1 year for this last strategy is between 4.4% and 10.1%, including target-lesion revascularization (about 4%), recurrent ACS (about 4.5%), and stent thrombosis (about 1%).
Plaque erosion lesions typically have significant lumen, vessel architecture is preserved, and thrombus is platelet-rich. These findings were the study hypothesis that guided the management of these patients with medical therapy (particularly, antiplatelet agents).
The incidence of plaque rupture decreases as statins proliferate; in consequence, the relative incidence of plaque erosion would be expected to increase.
Original title: EROSION Study (Effective Anti-Thrombotic Therapy Without Stenting: Intravascular Optical Coherence Tomography–Based Management in Plaque Erosion). A 1-Year Follow-Up Report.
Reference: Lei Xing et al. Circ Cardiovasc Interv. 2017 Dec;10(12).
---
We are interested in your opinion. Please, leave your comments, thoughts, questions, etc., below. They will be most welcome.