Courtesy of the SBHCI.
This study used the thin strut everolimus eluting stent with ultrathin abluminal bioresorbable polymer coating chromium platinum stent, basically the Synergy stent. Drug release and polymer degradation within four months facilitate endothelization and would allow a shorter DAPT.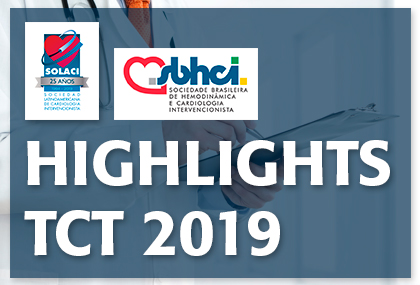 Presented during the scientific sessions of TCT 2019, this study included 2009 high risk bleeding patients (>75 high risk of bleeding, use of oral anticoagulation, major bleeding in the last year with a history of stroke, thrombocytopenia or kidney failure).

After PCI, patients received DAPT (aspirin + P2Y12 inhibitor) for 3 months, except in anticoagulated patients where aspirin was optional.

---
Read also: TCT 2019 | AUGUSTUS ACS: Apixaban vs. Warfarin and Aspirin vs. Placebo in AF and ACS.
---
Patients who did not present clinical events and had discontinued the P2Y12 inhibitor at month 3, continued with aspirin up to 3 to 15 months.

Primary end point was death or infarction between month 3 and 15 after procedure compared against a historical cohort receiving the classic 12-month DAPT. Events rate in patients receiving 3-month DAPT was 5.6% vs 5.7% for the historical cohort (p for non-inferiority = 0.0016). Thrombosis rate was 0.3% for an expected 1%.

Total bleeding and major bleeding rates resulted similar between the groups. (6.26% vs 4.1%).

Courtesy of the SBHCI.
Link to the SBHCI publication HERE
Original Title: EVOLVE Short DAPT: A Single-Arm Study of 3-Month DAPT in Patients at High Bleeding Risk Treated With a Bioabsorbable Polymer-Based Everolimus-Eluting Stent.
Reference: Jamil Cade.
Author of the Original Article: Ajay J. Kirtane.
---
We are interested in your opinion. Please, leave your comments, thoughts, questions, etc., below. They will be most welcome.