Here is a new SOLACI PERIPHERAL Case!
In this opportunity, Dr. Daniel Zanuttini (Arg.) presents "Type Ib Endoleak Correction in Patient After Minimally Invasive Hybrid Treatment in Type A Aortic Disection". This is the 8th clinical case presented by SOLACI Peripheral. The purpose of this space is to encourage and further the exchange of experiences and opinions, to keep advancing our knowledge in interventional cardiology.
Take part in the discussions and leave your comments!
---
Type Ib Endoleak Correction in Patient After Minimally Invasive Hybrid Treatment in Type A Aortic Disection
---
Author: Daniel Zanuttini (Argentina).
Contact: danielzanuttini10@gmail.com.
Institution: Instituto de Cardiología de Sanatorio Británico. Rosario. Argentina.
---
Discover other SOLACI Peripheral clinical cases
Medical record
57-year-old male Caucasian patient.

Religion: Jehovah's Witness.

Background: high blood pressure and dyslipidemia, treated with losartan 100 mg + amlodipine 5 mg/day and rosuvastatin 20 mg/day.

On September 15

th

, 2018, he made a consultation for retrosternal pain, lancinating, with arterial hypertension 190/120 mmHg and peripheral pulses (slightly decreased in the left femoral and popliteal arteries).

Multislice tomography: ascending thoracic aorta with preserved caliber; at 2 cm from the sinotubular junction we observe a dissection entrance, with helical attitude and great dilatation in the aortic arch (5.5 cm), continuing in the descending thoracic aorta up to the iliac arteries. (Fig. 1 and 2).
Fig. 1 and 2. Multislice CT showing a type A (type I) dissection.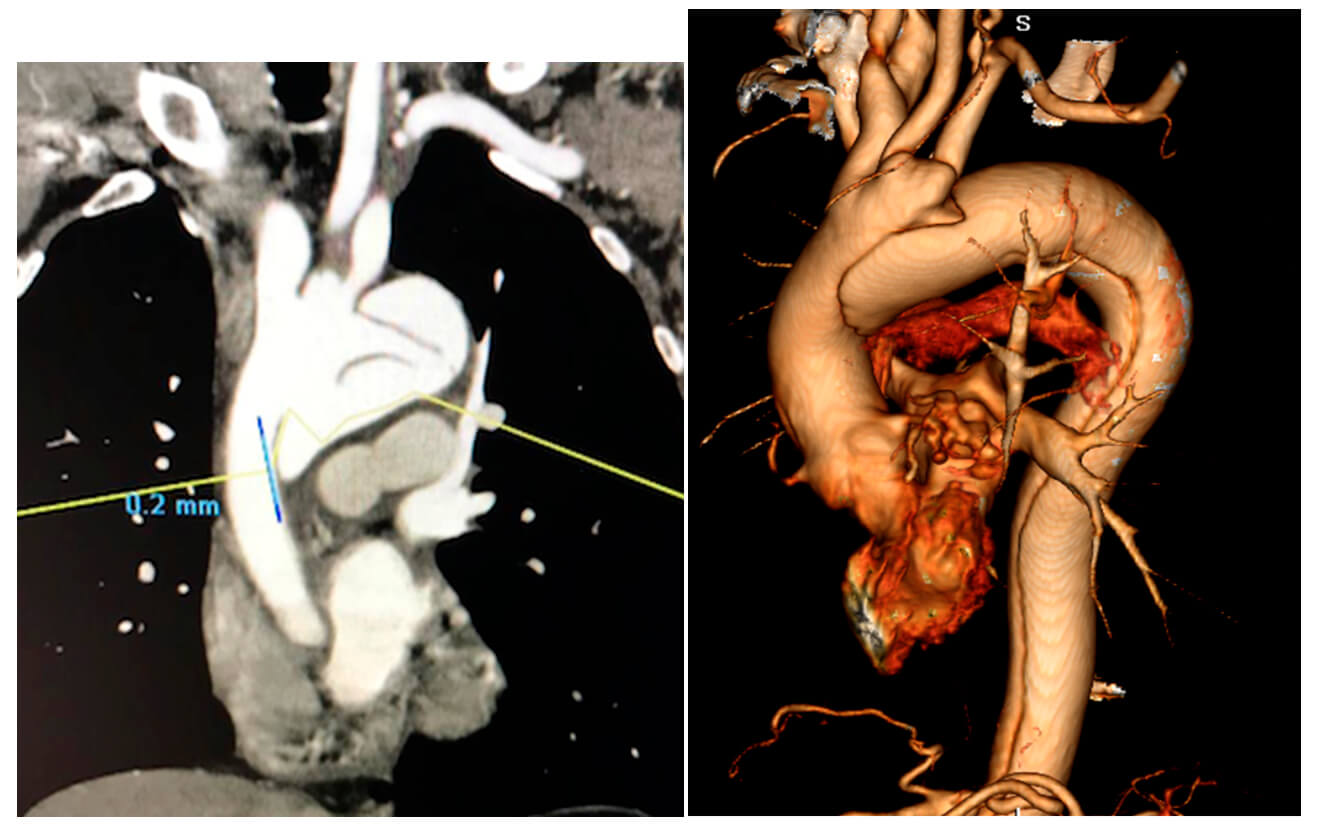 Type A aortic dissection is a life-threatening disorder requiring a fast and precise diagnosis. Without repair, 75% of patients die within two weeks, and 90% dies within three months. Reconstructive surgery, using an extracorporeal circulation device, is considered the first therapeutic option.
The patient refuses to receive transfusion of blood products from third parties.
Therefore, a hybrid treatment is chosen.
First stage: a "Y" graft is prepared to reconstruct brain circulation, with latero-terminal anastomosis between the ascending aorta and the prosthesis. This prosthesis is anastomosed with the brachiocephalic trunk and the left common carotid artery, which are ligated at their origin. Subsequently, the beginning of the left subclavian artery is ligated and a bypass is performed with a 10-mm prosthesis from the extra-thoracic portion, and the Y graft anastomosed in the ascending aorta is debranching (Fig. 3). During surgery, cell saver was used for red blood cell recovery.
A Talent 40x224x40 (Medtronic) thoracic stent is implanted via the right femoral artery from the ascending thoracic aorta up to the beginning of the descending aorta, with occlusion of the proximal tear, without complications. Patient is discharged 10 days after the surgery.
Fig. 3: "Y" graft to reconstruct cerebral circulation.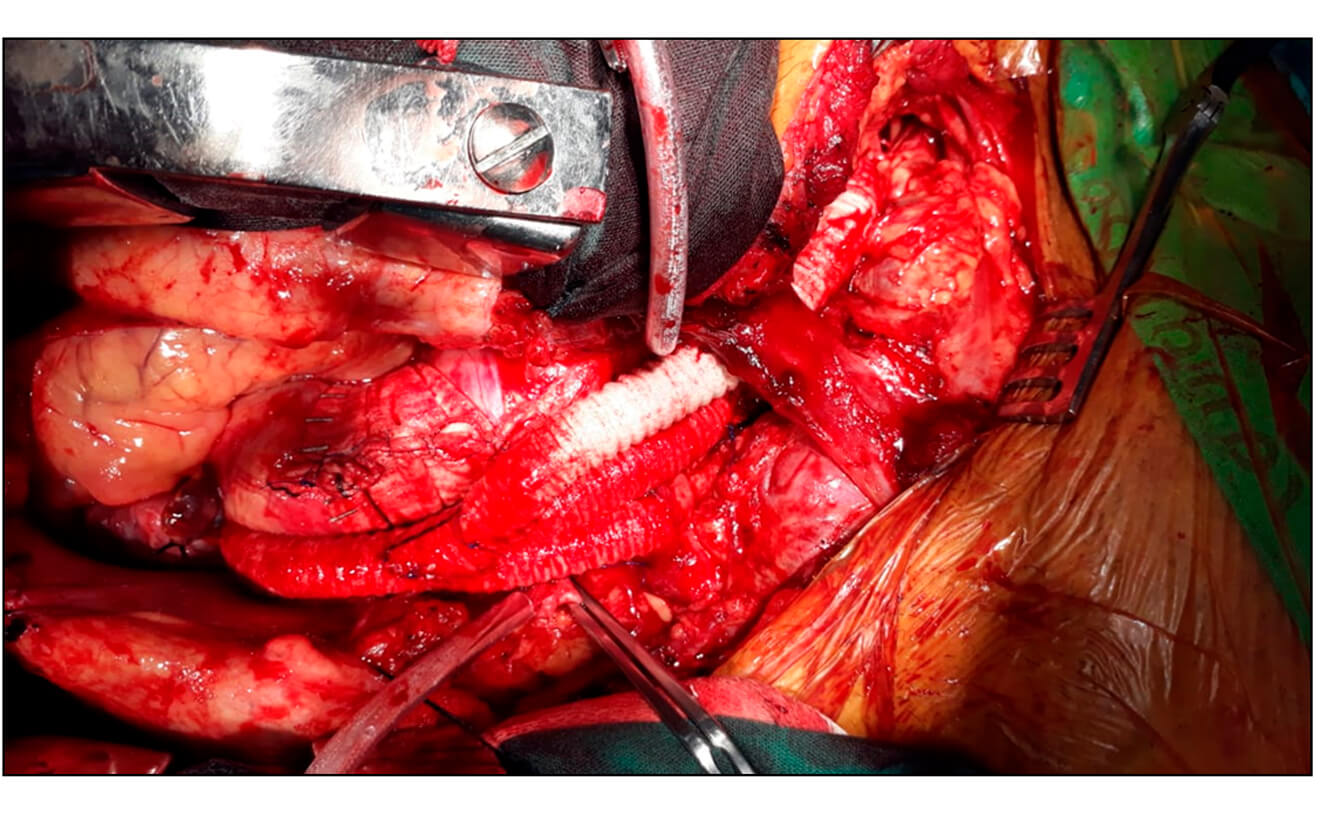 Fig. 4: Angiography showing optimal prosthesis expansion, supra-aortic vessel patency, and no false lumen patency.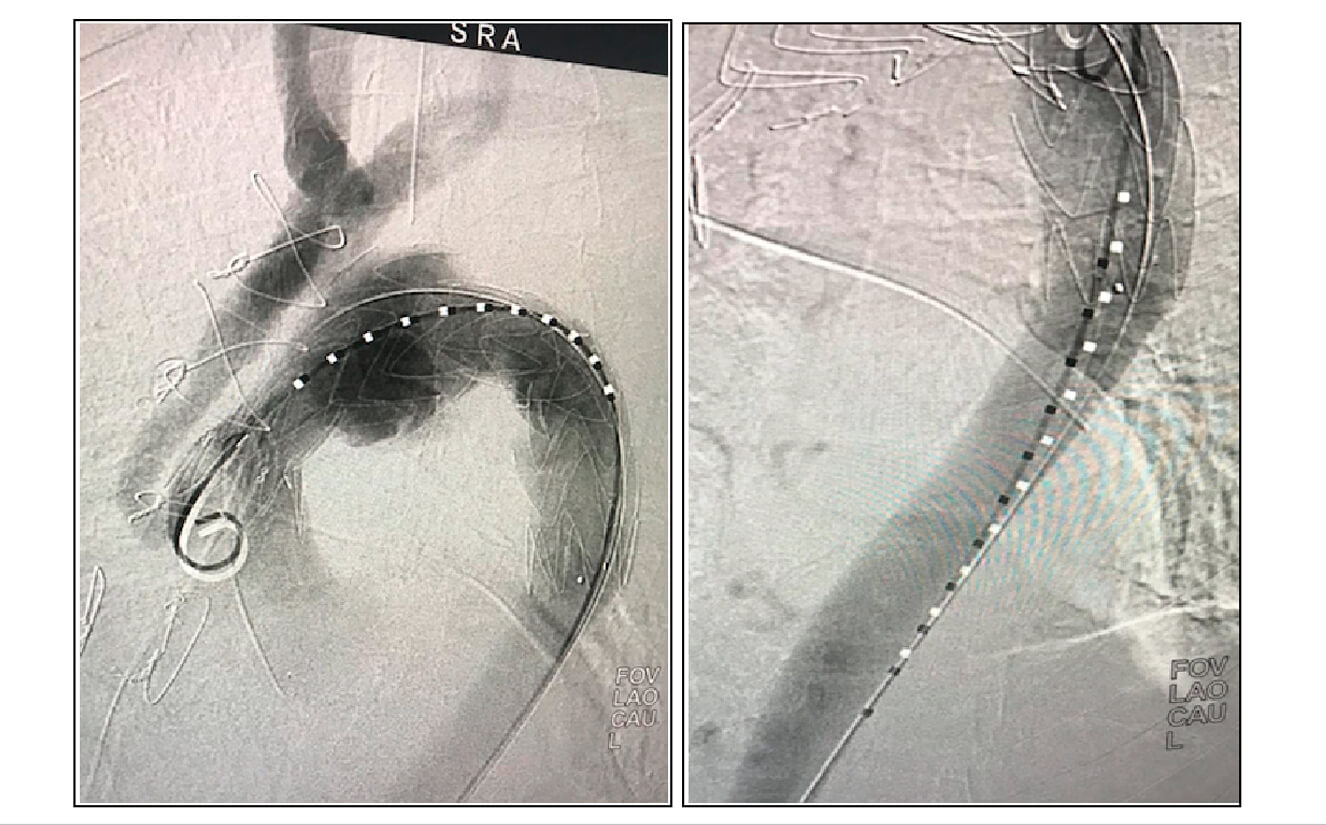 A control multislice CT at 60 days shows complete endoprosthesis expansion, decreased aneurysmal dilatation, moderate stenosis distal to the stent, distal type I endoleak, with false lumen patency. Clinical treatment continues.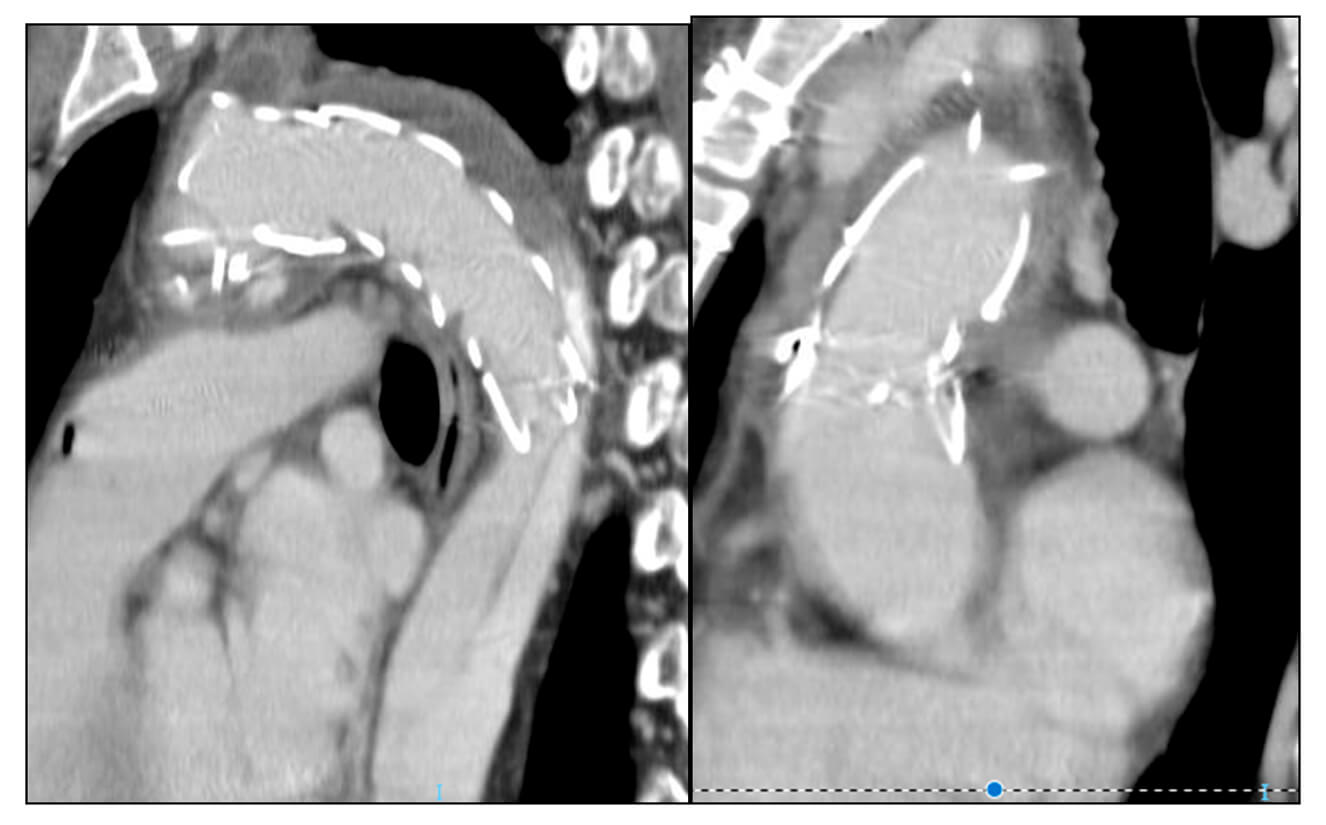 mA Multislice CT performed in October 2020 shows significant stenosis of the true lumen with greater distal type I endoleak. Correction with a Talent stent is conducted.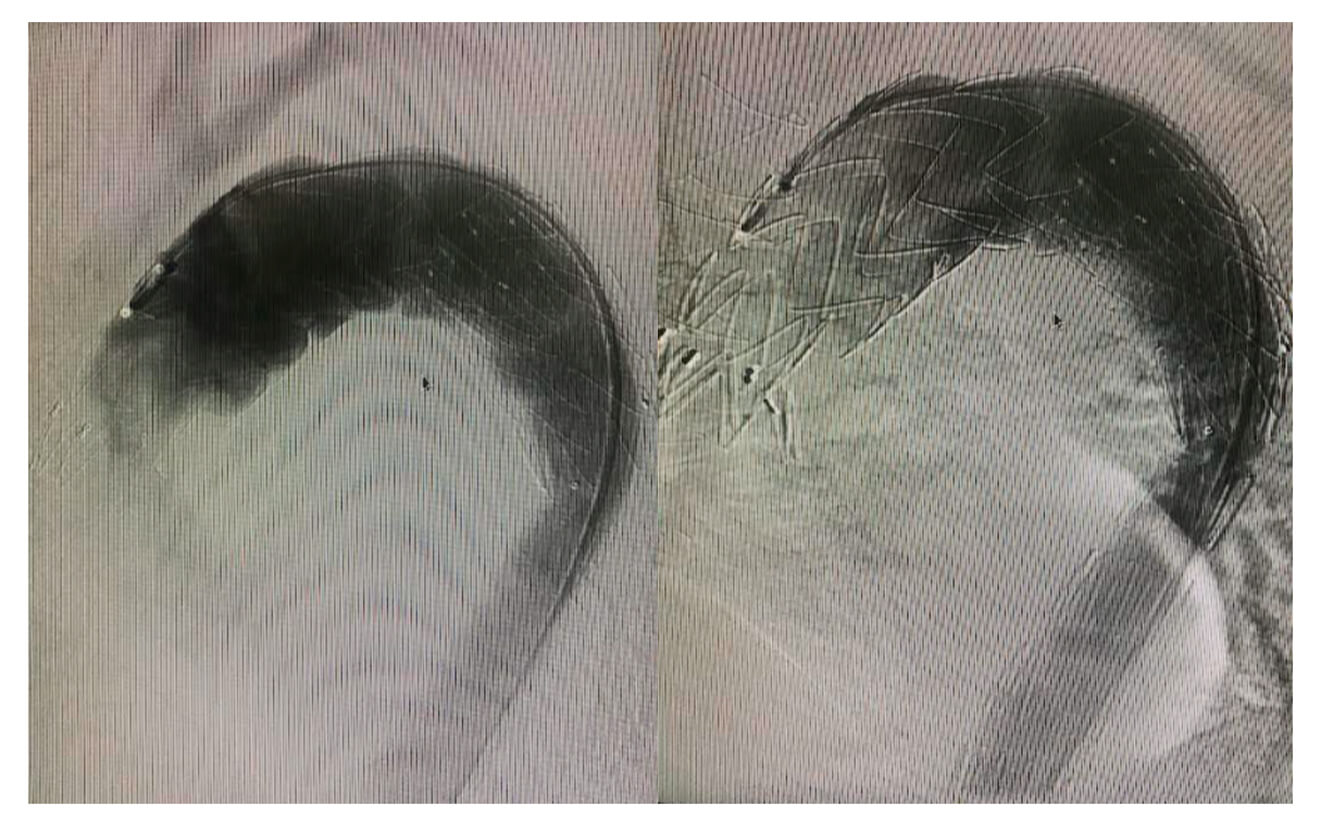 Asymptomatic clinical course; a control multislice CT is performed in June 2021.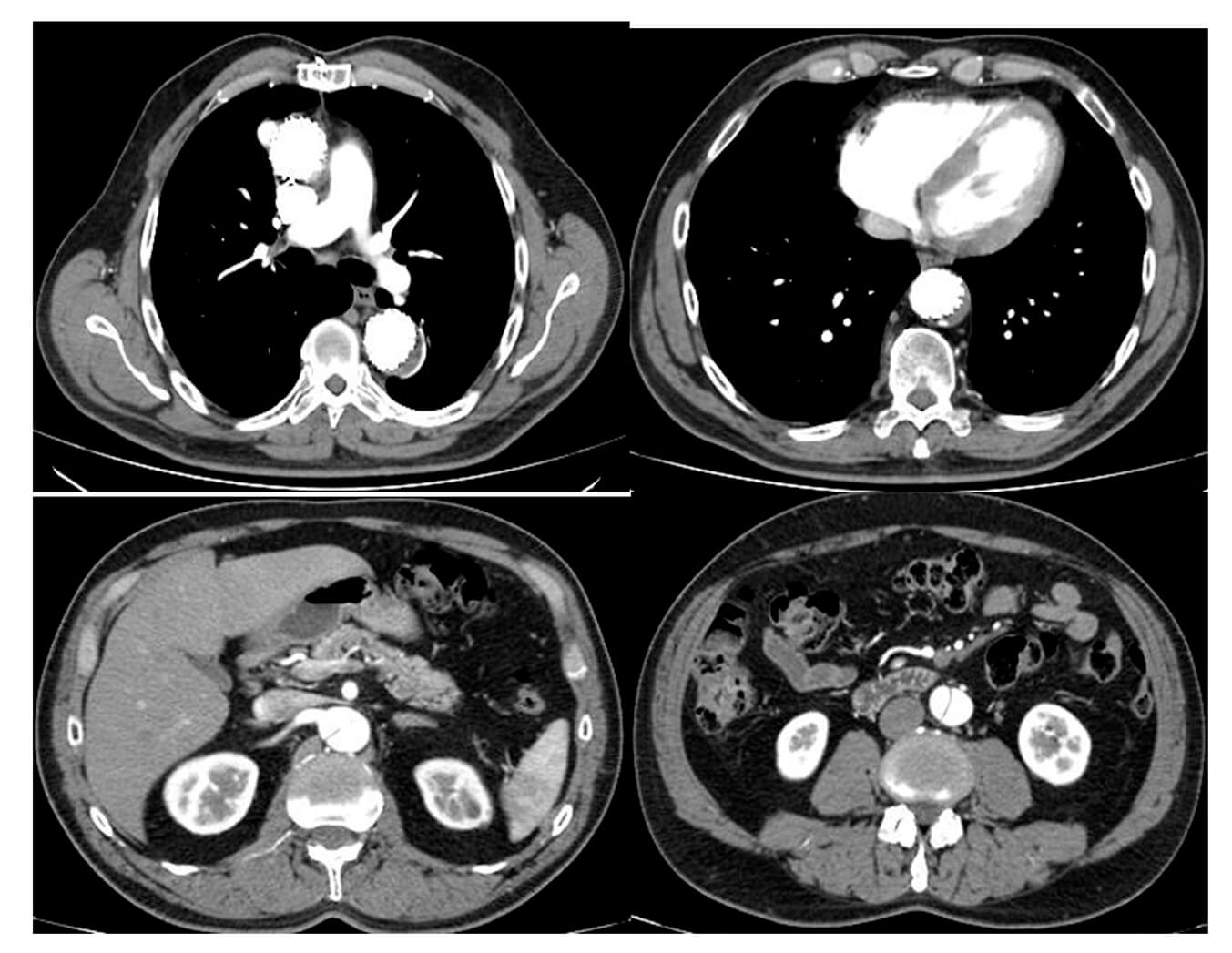 ---
Discover other SOLACI Peripheral clinical cases
Subscribe to our weekly newsletter
Get the latest scientific articles on interventional cardiology