The program MIL Training More MIL continues in specialized centers in Buenos Aires. Las Friday the chosen site was Anchorena Clinic.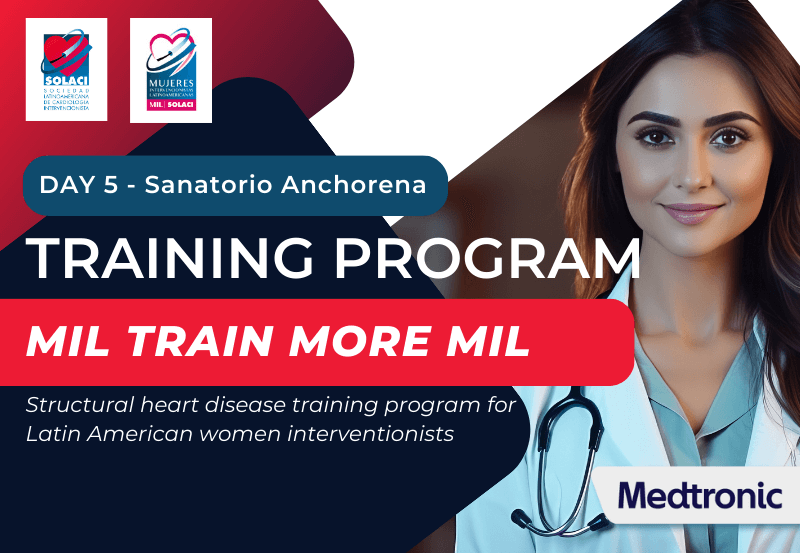 On this last day of training participants saw a TAVR case with Evolut PRO and reviewed several TAVR cases with small annuli, as well as several canned cases of aortic valve implantation with ACURATE Neo and Evolut.
▶ We congratulate the grant holders once more for taking part in this program and for their commitment to learning and sharing experiences.
👉 Dra. María Antonieta Albanéz (Brasil)
👉 Dra. Andrea Robaina (Venezuela)
👉 Dra. Victoria Andrea Liberti (Argentina)
👉 Dra. Iriz Rodrígues (Guatemala)
👉 Dra. Vanessa Flores Santacruz (Paraguay)
👉 Dra. Cecilia Cuevas de la Cruz (Perú)
👉 Dra. Beatriz Azpurúa Itriago (Venezuela)
👉 Dra. Blanca Esthela Méndez Bizarrón (México)
👉 Luciana Jubany (Uruguay)
▶ The aim of MIL Training More MIL is to offer education opportunities in structural heart disease to female doctors across Latin America.
▶ We thank Dr. Matías Sztejfman and the whole staff at Anchorena Clinic for making part of this important educational initiative form Latin American Women.
▶ We also want to extend our deep gratitude to Medtronic for their support to this program.
See the best images below
---
Subscribe to our weekly newsletter
Get the latest scientific articles on interventional cardiology