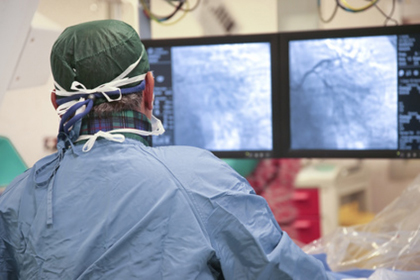 This new device offers the advantage of a lower frame height, which reduces the chance of coronary occlusion. The delivery system is totally motorized and the valve can be repositioned. In addition, the sheath is "14 F" for all valve sizes (23, 26 and 29mm).
203 patients were included, all with severe aortic stenosis and high surgical risk. Repositioning rate was 3.5% and there were no lesions in the left ventricle or the aorta. Post dilation was necessary in 33% of patients and the procedure was considered successful in 97.5%.
Stroke rate was 4% and disabling stroke was 2.5%. Only 4.9% required definite pacemaker; vascular complications were also low with 6.4%.
All hemodynamic variables improved significantly and were maintained in time. Remarkably, 99.5% of patients did not present paravalvular leak.
The motorized release allows the procedure to be performed by just one operator and the valve to be repositioned at any time during release.
Conclusion
The CENTERA valve showed low all-cause mortality rate, a very low rate of pacemaker implantation together with significant hemodynamic improvement and practically absence of paravalvular leak.
Courtesy of SBHCI.
Título original: 30-day Outcomes of The CENTERA Trial – a New Self-Expanding Transcatheter Heart Valve.
Presentador: Didier Tchétché.
---
We are interested in your opinion. Please, leave your comments, thoughts, questions, etc., below. They will be most welcome.