Courtesy of Dr. Carlos Fava.
The incidence of unprotected left main severe stenosis ranges between 4 and 8%, and it's mostly associated with multivessel disease.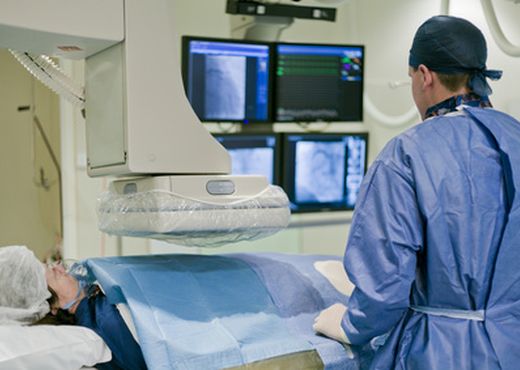 The use of left ventricular support devices in high risk unprotected left main PCI is on the rise, but not much information available in this regard.
---
Read also: "Prior assistance with Impella 2.5 lowers 30-day mortality in cardiogenic shock due to unprotected left main coronary artery lesion".
---
The study retrospectively analyzed 127 consecutive patients undergoing unprotected left main PCI, with Impella 2.5 and Impella CP implantation (76% and 24%).
Mean age was 70 (mostly men); half had cardiac failure, were in functional class CF III-IV; ejection fraction was 28% and they all presented multiple comorbidities. Mortality and morbidity STS were 4% and 23% respectively. 19 patients presented acute coronary syndrome (5 ST elevation MI). Baseline SYNTAX score was 31.4±10.9 and residual was 7.86±8.08. The Impella device was successfully implanted in all patients.
The number of vessels with >50% stenosis was 2.1±0.68, and they received 2.07±0.97 stents/patient.
---
Read also: "Small Annulus: Should We Start Choosing the Valve?"
---
In hospital mortality and 30 day rates were 1.43% y 2.1%. One patients presented AMI and there were no strokes. There were no deaths associated to the device. Five patients presented major bleeding requiring transfusion, and one has a vascular complication that did not require surgery. The presence of hematoma was 2.3%, kidney failure was 0.79%, there were no device failures, or hemolytic anemia, or valvular complications.
Conclusion
This huge single center retrospective study of the USpella Registry strongly supports the safety, efficacy and hemodynamic usefulness of the Impella for unprotected left main PCI, with acceptable in hospital and 30 day MACE rates.
Comment
The most relevant thing of this study is that it shows the Impella device is feasible and safe for unprotected left main PCI with no cardiogenic shock and high surgical risk. In addition, it allowed revascularization, which resulted in a <8 residual SYNTAX.
Implanting this device prior PCI provides hemodynamic support and minimizes myocardial ischemia, ensuring good perfusion during procedure in patients with complex coronary anatomy.
One of the limitation of this device is its availability and high cost, which significantly limits its use.
Courtesy of Dr. Carlos Fava.
Original Title: Real-World Supported Unprotected Left Main Percutaneous Coronary Intervention with Impella Device; Data from the USpella Registry.
Reference: Theodore Schreiber, et al. Catheterization and Intervention 2017;90:576-581
---
We are interested in your opinion. Please, leave your comments, thoughts, questions, etc., below. They will be most welcome.