Courtesy of Dr. Carlos Fava.
Mitral regurgitation (MR) is the most frequent valvulopathy in Europe and US, affecting close to 10% of patients over 75, with more morbidity and mortality.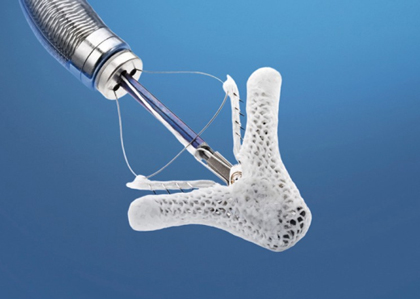 The treatment of choice is percutaneous repair instead of replacement, to maintain the sub-valvular apparatus that contributes to systole. This is feasible and has better evolution in degenerative diseases, which generally have good ventricular function, because it is all about leaflet alteration. Treating secondary mitral regurgitation is more difficult since leaflets are normal and what is altered is ventricular dilation, with infarction, left atrial dilation and, in general, some left ventricular function deterioration.
The study looked at 13575 patients in Germany undergoing edge-to-edge percutaneous repair with MitraClip between 2011 and 2015. Prevalence was 3.35 every 100,000 inhabitants.
---
Read also: Mitral Valve Repair with MirtaClip Was Feasible and Safe.
---
60% of the population were men; mean age was 77; 87.6% presented dyspnea FC III-IV; 67.3% coronary artery disease, 46% kidney failure, 30% diabetes and 15% chronic obstructive pulmonary disease.
The number of patients receiving MitraClip increased over time: from 815 in 2011 to 4432 in 2015 (β 1.00 [95% CI: 0.96-1.03], p<0.001).
Inhospital mortality and MACE remained similar over the years.
---
Read also: MitraClip "Off Label" con buenos resultados.
---
Independent predictors of inhospital mortality were cardiac failure (OR 1.91 [95% CI: 1.43-2.54], p<0.001), erythrocyte transfusion (OR 9.04 [95% CI: 7.45-10.96], p<0.001), stroke (OR6.82 [95% CI: 4.34-10.72], p<0.001), endocarditis (OR 19.52 [95% CI: 9.04-42.14], p<0.001), pulmonary embolism (OR 7.61 [95% CI: 3.44-16.81], p<0.001), cardiac tamponade (OR 14.08 [95% CI: 7.09- 27.96], p<0.001) and pericardial effusion (OR 2.59 [95% CI: 1.66-4.04], p<0.001).
Conclusions
The treatment with MitraClip increased a 5.4-fold between 2011 and 2015 with similar mortality and MACE. Our data show that percutaneous edge-to-edge MitraClip repair is a technique with acceptable inhospital mortality in real world patients.
Gentileza del Dr. Carlos Fava.
Original Title: Incidence and in-hospital safety outcomes of patients undergoing percutaneous mitral valve edge-to-edge repair using MitraClip: five-year German national patient sample including 13,575 implants.
Reference: Ralph S. von Bardeleben, et al. EuroIntervention 2019;14:1725-1732.
---
We are interested in your opinion. Please, leave your comments, thoughts, questions, etc., below. They will be most welcome.