Paclitaxel coated balloons in peripheral territory have been under the spotlight for alleged increased mortality, which even though not observed in this study, experts insist, calls for new studies with enough statistical power.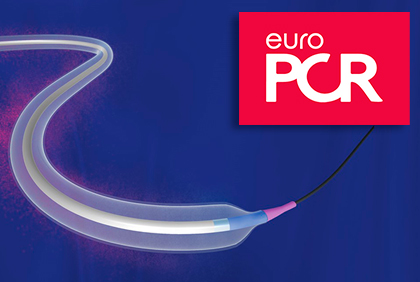 Compared against plain balloon angioplasty, paclitaxel coated balloons resulted in improved patency and less revascularization at 24 months in superficial or popliteal femoral lesions according to this new study presented at EuroPCR 2019. The study specifically looked at all-cause mortality and found no relation to the device, though this conclusion might not apply to all paclitaxel coated balloons.
The first questions about paclitaxel related mortality were raised last year with the meta-analysis carried out by Konstantinos Katsanos including 28 studies, both with paclitaxel coated balloons and plain balloons to treat femoropopliteal territory. This meta-analysis found mortality was similar at one year but were significantly increased at 2 and 5 years.
---
Read also: EuroPCR 2019 | TAVR Durability Offers Certain Guarantees at 8 and 10 Years.
---
This new study with a 2-year follow-up showed all-cause death risk with the paclitaxel coated balloon Luminor vs. the 0.48 plain balloon (CI 95% 0.04 to 5.1).
The Luminor has a new design that concentrates paclitaxel so that it is released on the target lesion, reducing systemic drug loss.
The EFFPAC was a randomized controlled trial carried out at 11 centers in Germany comparing the Luminor vs. plain balloon in 171 patients with femoral superficial or popliteal lesions less than 150 mm long. All patients received predilation and most were in Rutherford class 2 to 4 with a small percentage of critical ischemia.
At 24 months 88.1% of patients receiving the drug coated balloon improved at least one Rutherford category vs. 85.5% of patients in the plain balloon group, resulting in non-significance (p=0.44).
---
Read also: EuroPCR 2019 | Stent Firehawk Continues to Show Good Results at 2 Years vs. Xience.
---
What was indeed significant was the difference in primary patency, with 90.2% for the paclitaxel coated balloon vs. 62.7% for plain balloons (p=0.0004).
Original Title: Are DCBs safe? Not all DCBs are the same. New data: EFFPAC 2-year.
Presenter: Teichgräber U.
---
We are interested in your opinion. Please, leave your comments, thoughts, questions, etc., below. They will be most welcome.