Our program MIL Training More MIL continues in specialized centers in Buenos Aires. Yesterday, it was held at Buenos Aires Italian Hospital.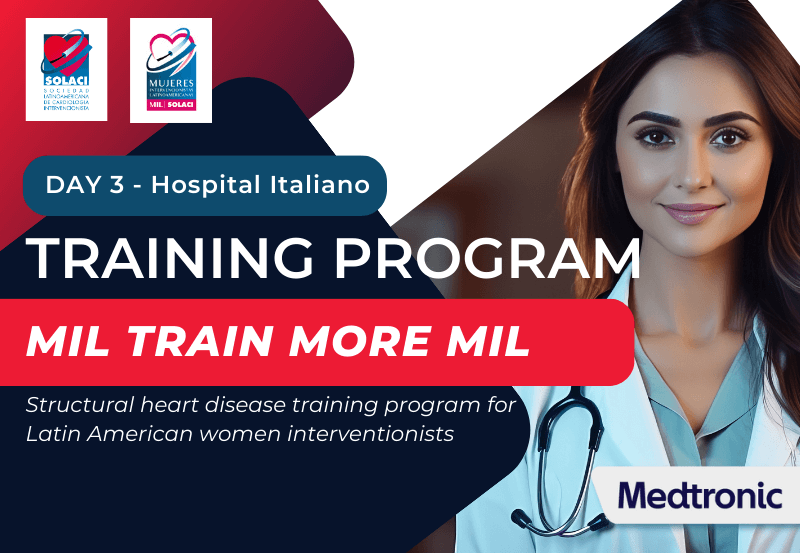 There, the grant holders attended a training session on structural heart disease that consisted of live cases with successful MyVal and Acurate Neo 2 implantation. Also, there were challenging live case discussions and step by step techniques for CT assessment.
On the other hand, the hospital team shared experiences and scientific evidence on the pros and cons of different devices, patient selection criteria, precautions during implantation, patient discharge recommendations and followup, and more.
▶ We congratulate once more our fellow women interventionists that took part in this program for their commitment to learning and for sharing experiences.
👉 Dra. María Antonieta Albanéz (Brazil)
👉 Dra. Andrea Robaina (Venezuela)
👉 Dra. Victoria Andrea Liberti (Argentina)
👉 Dra. Iriz Rodrígues (Guatemala)
👉 Dra. Vanessa Flores Santacruz (Paraguay)
👉 Dra. Cecilia Cuevas de la Cruz (Perú)
👉 Dra. Beatriz Azpurúa Itriago (Venezuela)
👉 Dra. Blanca Esthela Méndez Bizarrón (Mexico)
▶ The aim of MIL Training More MIL is to offer education opportunities in structural heart disease to female doctors across Latin America.
We also thank the Italian Hospital staff and Dr. Carla Agatiello and Ignacio Seropian for making part of this important initiative.
▶ We also want to extend our deep gratitude to Medtronic for their support to this program.
See the best images below
---
Subscribe to our weekly newsletter
Get the latest scientific articles on interventional cardiology