The program MIL Training More MIL continues in specialized centers in Buenos Aires. Yesterday it took place at the prestigious Favaloro Foundation.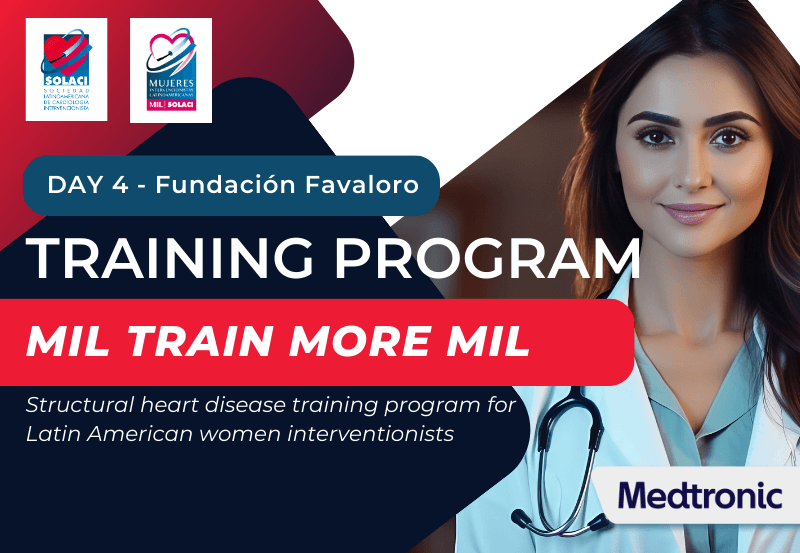 During the session, Dr. Fava, interventional cardiologist from the foundation, delivered talks together with the grant holding physicians on MItraclip, Evidence in Cusp Overlap, Pacemaker Risks in Self-Expandable TAVR, Coronary Artery Disease and TAVR, When and Who to Revascularize, and more.
Also, there were 3 TAVR live cases with Evolut, with Drs. Oscar Mendiz, Silvina Gómez and Carlos Fava.
Finally, there were clinical cases and discussions of patient resolution post TAVR with low prosthesis and severe insufficiency, tricuspid regurgitation and percutaneous treatment.
▶ We congratulate the grant holders once more for taking part in this program and for their commitment to learning and sharing experiences.
👉 Dra. María Antonieta Albanéz (Brasil)
👉 Dra. Andrea Robaina (Venezuela)
👉 Dra. Victoria Andrea Liberti (Argentina)
👉 Dra. Iriz Rodrígues (Guatemala)
👉 Dra. Vanessa Flores Santacruz (Paraguay)
👉 Dra. Cecilia Cuevas de la Cruz (Perú)
👉 Dra. Beatriz Azpurúa Itriago (Venezuela)
👉 Dra. Blanca Esthela Méndez Bizarrón (México)
▶ The aim of MIL Training More MIL is to offer education opportunities in structural heart disease to female doctors across Latin America.
▶ We thank the staff at Favaloro Foundation, Dr. Oscar Mendiz, Dr. Carlos Fava and Dr. Silvina Gómez for participating in this program.
▶ We also want to extend our deep gratitude to Medtronic for their support to this program.
See the best images below
---
Subscribe to our weekly newsletter
Get the latest scientific articles on interventional cardiology