Courtesy of SBHCI.
Prognosis of patients with cardiac failure who develop secondary mitral regurgitation due to dilation is uncertain.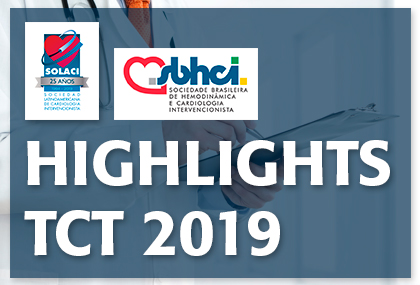 The COAPT study was carried out in 78 centers across the US and Canada and included patients with moderate to severe mitral regurgitation (3 or 4 crossovers) symptomatic despite optimal medical treatment (OMT).
614 patients were randomized to MitraClip (n=302) plus OMT vs. OMT alone (n=312). Primary efficacy end point was hospitalization for cardiac failure at 24 months and safety end point was the absence of device related complications at 12 months. Of the initial group of patients randomized to OMT, 58 (18.6%) crossed over to MitraClip. Before year 2, the protocol would not allow to cross over.
---
Read also: TCT 2019 | PCI in Stable CAD. Prior TAVR, with TAVR or Never?
---
TCT 2019 presented the 3-year outcomes of COAPT, including crossover patients to test whether MitraClip also would have an impact in events vs. OMT alone patients.
Primary efficacy end point for hospitalizations for cardiac failure at 36 months was seen 220 times for the MitraClip arm vs 378 for the OMT alone arm (HR 0.49; p=<0.0001). For the safety end point, device related complications were 1.4% and disease progression related complication were 7.4%. 
All-cause mortality for the MitraClip arm was 42.8% (including crossovers at 2 years) vs 55.5% for OMT alone patients (HR 0.67; p<0.001).
Conclusion
In patients with cardiac failure and moderate or severe mitral regurgitation who continue to present symptoms despite OMT, at 3 years, MitraClip reduced hospitalization rate for cardiac failure, improved quality of life, functional capacity and survival compared against optimal medical treatment alone.
Courtesy of SBHCI.
Link to the SBHCI Publication HERE
Original Title: COAPT: 3-Year Outcomes From a Randomized Trial of the MitraClip in Patients With Heart Failure and Severe Secondary Mitral Regurgitation.
Author of the Original Title: Michael J. Mack.
---
We are interested in your opinion. Please, leave your comments, thoughts, questions, etc., below. They will be most welcome.